The actor wrote a letter to the Union Environment Minister…
If you know Tiger Shroff personally then you surely know how he cares for everyone around him, especially animals. He loves animals a lot and looks like he just turned into a superhero in real life for the big casts in the jungle as he wrote a special and heartfelt letter to the government.
On the occasion of International Tiger Day today, the actor has sent a letter on behalf of PETA India to the Union Minister of State for Environment (independent charge) – Anil Madhav Dave, urging him to ensure that the government focuses on protecting tigers in their natural habitats.
In his letter, Tiger mentioned, "I am writing to bring your urgent attention to the plight of one of my favourite animals: Tigers. As you know, 29 July is International Tiger Day – a day for all of us to consider what we can do to save these big cats who are headed towards extinction. A few years ago, I adopted a tigress at a zoo because I wanted to help these animals, but where tigers really need protection is in their natural homes, where they have ample space to roam, spend time with their families, and engage in other natural behaviours. I know environmental issues are important to you, as they are to me. I join my friends at People for the Ethical Treatment of Animals (PETA) India in hoping that under your leadership, we will see the government focus its conservation efforts toward protecting India's remaining forests and bringing in additional measures to safeguard tigers and other animals in our precious jungles."
Check out the letter here: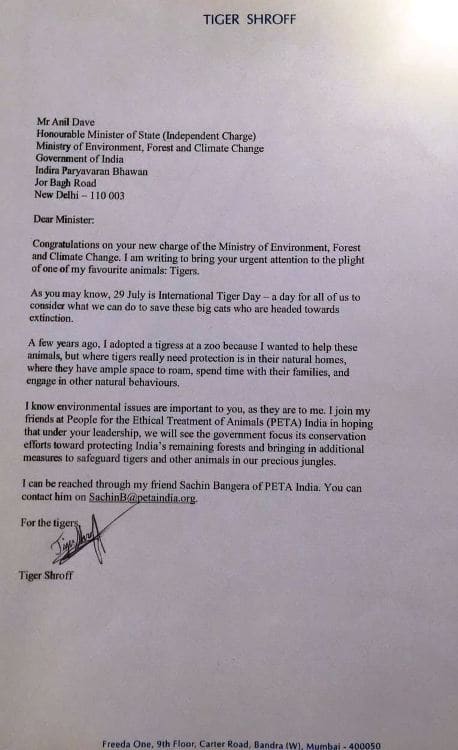 After turning a superhero for Tigers, the actor is also going to be seen as a superhero in Balaji Motion Pictures' upcoming film – A Flying Jatt. Till then tell us what you think about Tiger Shroff's sweet gesture on International Tiger Day in the comments section below! Also check out the latest song from his upcoming film in the video right here: