Sonam Kapoor, Radhika Apte, Ileana D'cruz – 5 actresses who failed to impress us with their recent outings!

Sorry ladies, but you FAILED to impress us this time around. Better luck next time!
Like every week, there were a few celebs who impressed us with their oh-so-fashionable outings while a few made us cringe with their appearances. So we decided to pick five such outings which we hope are never repeated on the red carpet AGAIN! Take a look!
Sonam Kapoor
Sonam Kapoor made an appearance on the third day of the FDCI India couture

Week 2016 during Anamika Khanna's show. The fashionista wore a floral embroidered half saree with a loose blouse. The baggy blouse didn't really go well with the half saree and was a huge let down.
During the recent Vogue India Beauty Awards, Ileana D'cruz was seen in a Roberto Cavalli dress. The dark pink colour complimented the Rustom actress's skin tone very well but the sleeves made the outfit look like a maternity dress rather than an evening gown.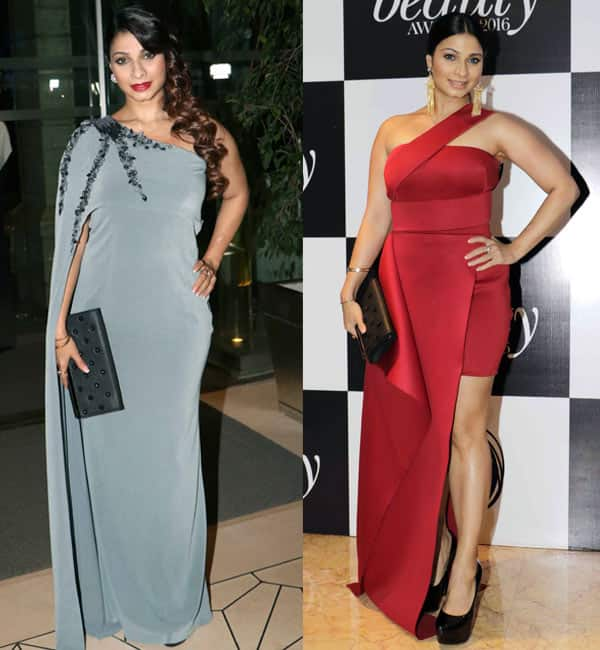 Tanishaa Mukerji along with mother Tanuja recently attended the NGO Stamp party held in Mumbai. She wore a grey dress with detailing on one shoulder. This floor length, straight cut dress failed to compliment her body and looked drab. Kajol's little sister disappointed us for the second time at the recent Vogue India Beauty Awards. During the award ceremony, Tanishaa, donned a red outfit which looked very boxy and the flat hairstyle made the look dull.
Neha Dhupia was recently spotted at a party. She wore a Nikhil Thampi maxi with a mini satchel. A few months back Kalki was spotted in the same at the screening of Waiting in Delhi. While Kalki managed to pull off the dress with her hair swept back and perfectly lined eyes. On the other hand the dress did not hang well on Neha and was spread all over.
Radhika Apte
Radhika Apte sported an all red look by Gauri and Nainika. The trend of matching everything with your outfit is long gone, contrasting is the new thing now. The matching earrings were a bad call. With so much of colour she should have stuck to a neutral shade lipstick to enhance the look. Don't you agree?