Sometimes, truth is just so bitter…
When the first teaser trailer for Deepika Padukone's big Hollywood break came out, there were many who were disappointed with her lack of screentime in the trailer.
Of course, it's a Vin Diesel film and it's imperative that he will get the maximum footage here, but some of Deepika's fans are behaving as if this is not a xXx film, but a Hollywood version of Bajirao Mastani, as they scream NOT FAIR with Deepika's little bit in the trailer. The main thing that bugged them was that the other heroine in the film, Ruby Rose, got more footage than Deepika in the film (with a parting shot included).
Now there is some justification to their anger. From the onset itself, Deepika's PR machinery had always portrayed that film as one where the actress will be sharing nearly equal with Vin Diesel, and she would be the main heroine.
Remember this pic, when Deepika announced she is doing the film…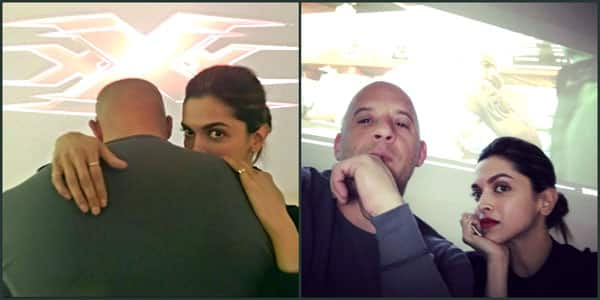 …or for the matter, their hot photoshoot…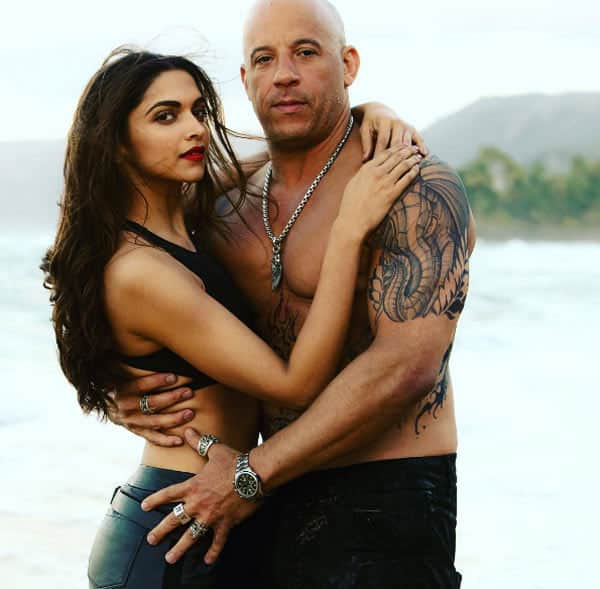 …and those regular pics, where Deepika was posing with nearly everyone from the cast..
Later, we heard that Orange is The New Black actress Ruby Rose and Vampire Diaries star Nina Dobrev have also been cast in the film. Now there are three heroines in the film competing for the attention of its lead male star.
Now Deepika Padukone is definitely a huge star in Bollywood, and we all love her. But in Hollywood, she is just a videshi import wanting to make her debut there. There isn't enough buzz about her as much as there is about a certain rival of hers (we will get to her in some time). Frankly, both Ruby and Nina are more popular than her there, especially the former, and the trailer is a proof of that. If Deepika wants to stand out in the film with her badassery, then even Ruby can outdo her there…
However, one thing people will definitely forget that no one remembers xXx films for their heroines – all they are known are for their mindless action sequences and Vin Diesel being a Rajinikanth (in the first film, that is before he was replaced by Ice Cube in the sequel). Asia Argento, daughter of prolific horror director Dario Argento was the heroine of the first film, but it didn't take her much ahead in Hollywood. I don't even remember who were the female leads in the sequel, and frankly none one would like to remember that travesty of a film in the first place!
So Deepika really should have a hidden ace in her role that will make her get noticed by the bigwigs of Hollywood, and if that ace means she will be a secret villain in the film, remember Aishwarya Rai did that in The Pink panther 2, and it didn't go well for her!
Now let's talk about Priyanka Chopra. The former Miss World already has a huge advantage over her Bajirao Mastani co-star due to the fact that people in America know her thanks to her role in the TV series, Quantico…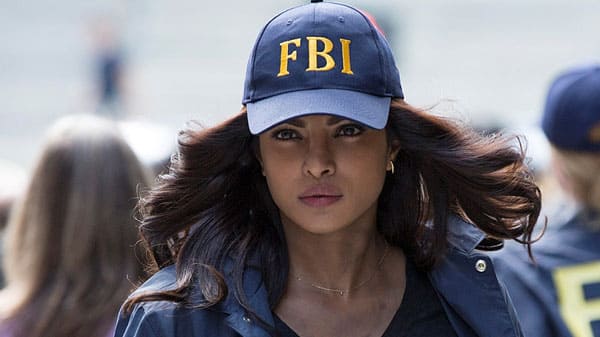 Quantico also gave her opportunities to be a guest on many popular talk shows, including Jimmy Fallon show…
…or be a face on the cover pages of popular mags, like Elle…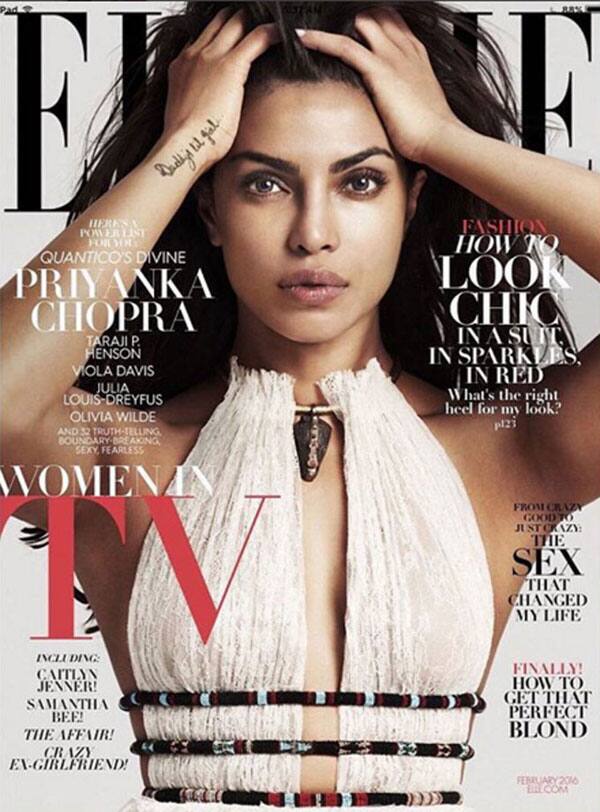 …and even get to announce an Academy Award with Liev Schreiber at Oscars 2016!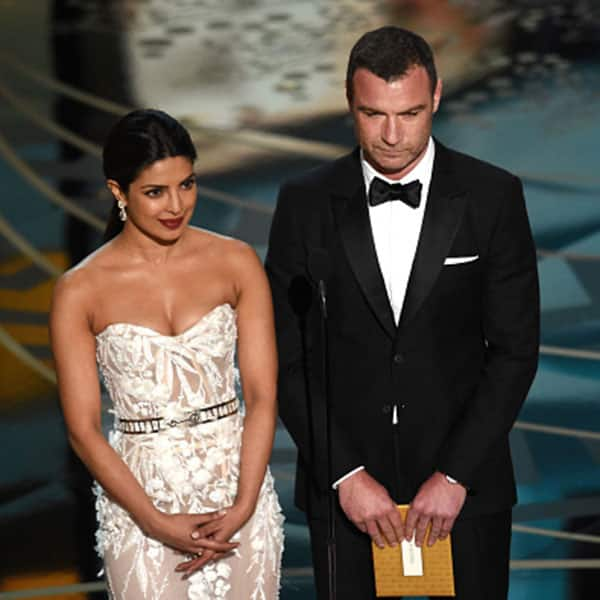 As they say, familiarity breeds…
Though Deepika did beat her in bagging a Hollywood biggie first, Priyanka still has an edge over her when it comes to their roles. In xXx, Deepika is just part of Vin Diesel's crew (unless she is playing some secret villain) that has Ruby, Tony Jaa and even Neymar.
However Priyanka is already playing the main antagonist in Baywatch, and, despite having three more heroines in the film, therefore will be standing apart from Dwayne Johnson & co., as you can see in the first poster of the film…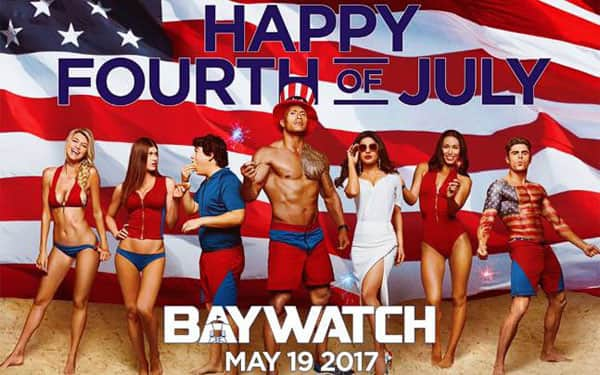 Her character will be the one putting spanner to the antics of the lifeguards in this comic reboot of the film! And face it, Baywatch is anytime more popular than xXx series.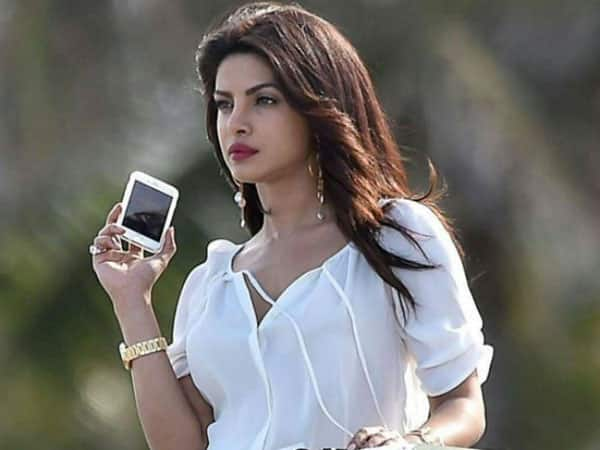 Therefore going by all the signs and situations, we have a feeling that it will Priyanka who will make more impact with her film, than Deepika!
What do you say?