Hold your jaws before they drop to the floor because Kat is here looking gorgeous as ever!
Lady in red, Katrina Kaif has captivated us with her beauty and style, once again! While we all are talking about Parineeti Chopra's massive transformation, time to give Kat her due credit too! Although we have spoken about the Baar Baar Dekho actress' bloody good transformation in the past as well, somehow the way she has maintained it and aced for better just makes us salute her. And while we talk about all that, we should also acknowledge the fact that the diva is literally owning internet today! First the release of her song from Baar Baar Dekho, Kaala Chasma and now this hot avatar for Vogue Beauty Awards 2016!
Wearing a Ramona Kaveze peek-a-boo gown, the diva looked absolutely resplendent. In fact, she actually gave critics a good reason to have given her the coveted title of Beauty of the Year by Vogue! Doesn't she look hot? In fact, lately she has been turning heads her way by donning some of the best ensembles and looking gorgeous! We just found out through Vogue's Twitter handle that Miss Kaif has been given the title of Beauty of the Year! They sure hit the nail on the head there by giving it to Kat as she totally deserves it.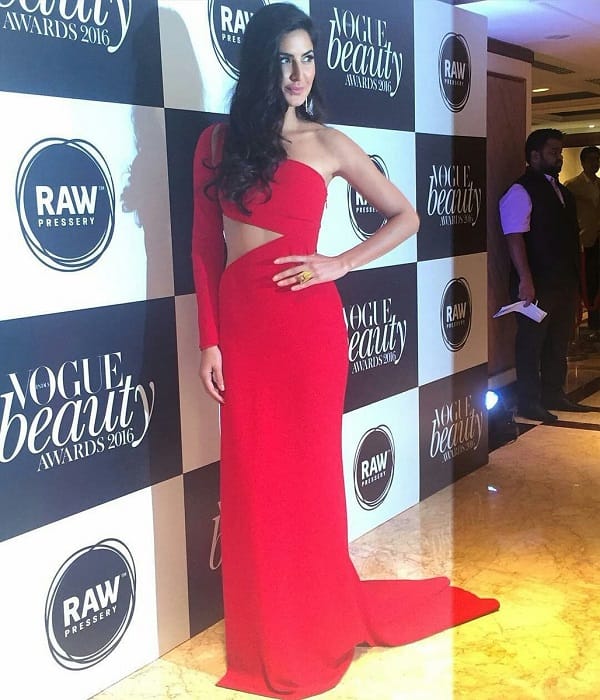 Present at the event was also her former boyfriend Ranbir Kapoor, who looked his charming best in a black suit. This is the second time the duo have attended the same event, post their breakup. We even exclusively told you how Kat and Ranbir's associates made sure that the exflames don't cross paths at the event and for the same reason, had the time of their entries kept far away from each other's. Obviously things are like hot iron right now as the duo don't want to see each other. But we gotta admit, Miss Kaif has been looking fabulous ever since her breakup. Don't you think?
Tell us your thoughts in the comments section below! And stay tuned to this space for more gossips and latest updates!