Jacky is just as addicted to Snapchat as we are! Here's what happened at Dishoom's screening held sometime ago!
The day of Dishoom's release has finally come! Varun Dhawan, Jacqueline Fernandez, John Abraham are more than excited for their buddy cop film to hit the screens. Sadly, a week before the release of the film, it was leaked and hit the internet and Torrents. As it became available on the internet way before the release date, it became a matter that needed tending and hence the makers all stood up for their rights as they decided to take the matter to HC. Well, yeah after having seen so many piracy issues, the makers didn't want this multi starrer to suffer.
But the positive note to this piracy is that irrespective of it's leak, trade experts predict that the film will still mint really well in its first week. A screening of Dishoom was held sometime ago (technically yesterday, but since it's past 12 already, we're saying moments ago) and a lot of B-townies came for it. Of course, close buddies of Sajid Nadiadwala, Jacqueline Fernandez, John Abraham and Varun Dhawan were present at the screening. Wondering how we know? Easy. Jacky's Snapchat! The diva has been Snapchatting all night, giving us a peek at what happened during and before the screening! So without waiting further, we'll quickly jump to give you a head on what happened.
Firstly, Miss Fernandez was late for the screening thanks to Mumbai traffic. But she still made it as soon as possible, along with her mother!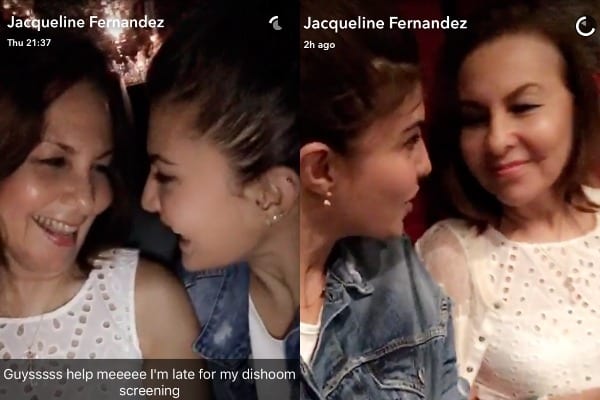 Next on her Snapchat was none other that social animal, Ranveer Singh! The actor was being his usual animated self while Jacky kept calling, "Excuse Me, Excuse Me…" and finally Singh acknowledged her and gave a virtual hug!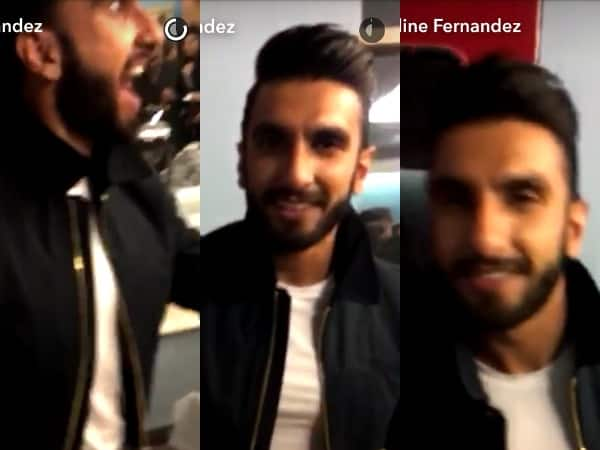 She then tried to have her last Snapchat with her co-stars Varun Dhawan and John Abraham and while Dhawan was all game for it, John just avoided the lassie's camera! We got a video of the same so check it out!
[VIDEO] @Varun_dvn @TheJohnAbraham @NadiadwalaSajid On Jacqueline's Snapchat. #DishoomScreening pic.twitter.com/OlZoaucSUv

— Varun Dhawan Cafe (@VarunDhawanCafe) July 28, 2016
Soon we heard Jacky in the background excited to see Akshay Kumar, her co-star from Housefull 3 and Dishoom (in a cameo), and even Abhishek Bachchan was present who walked behind Akshay.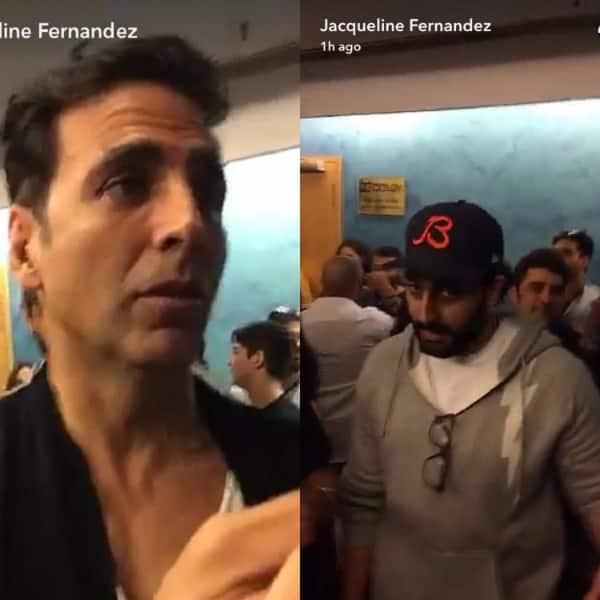 Jacky then took a cute selfie with Akshay and Sajid Nadiadwala's wife, Wardha Khan.
A really cool customised Dishoom cake was also there to commemorate the project and of course, to get the party started!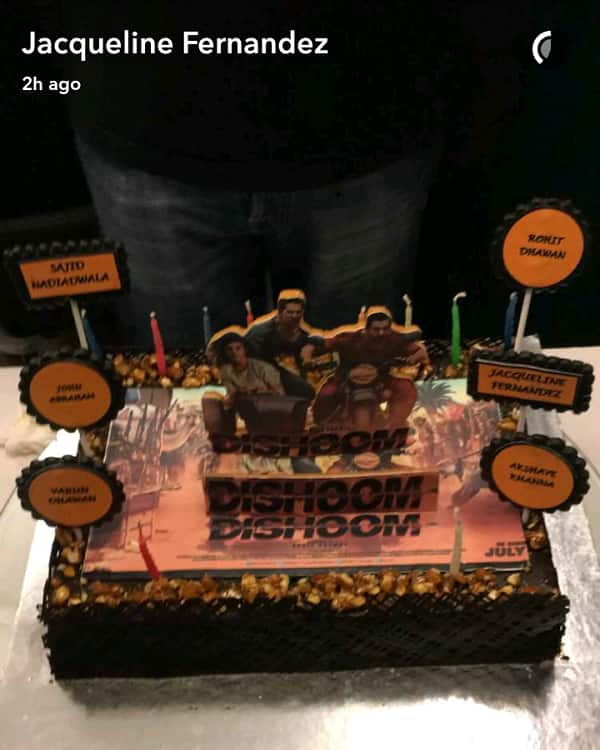 Then Jacky and Varun had a Snapchat session where Dhawan kept saying that it was all Miss Fernandez's fault while she just smiled throughout.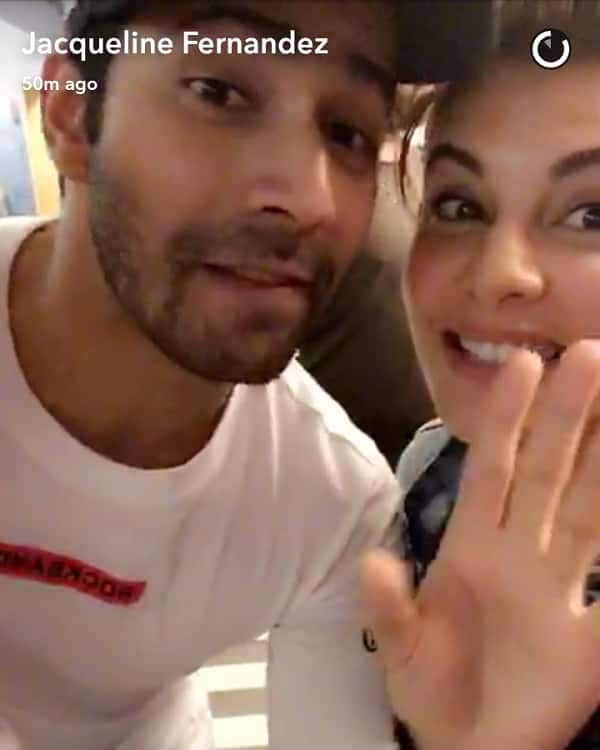 Finally, entered Sonam Kapoor, Jacqueline's BFF and the duo complemented each other by wearing the same denim jackets! Aww! You girls are just too darn adorable! Oh and yes, Sonam was looking gorgeous as always!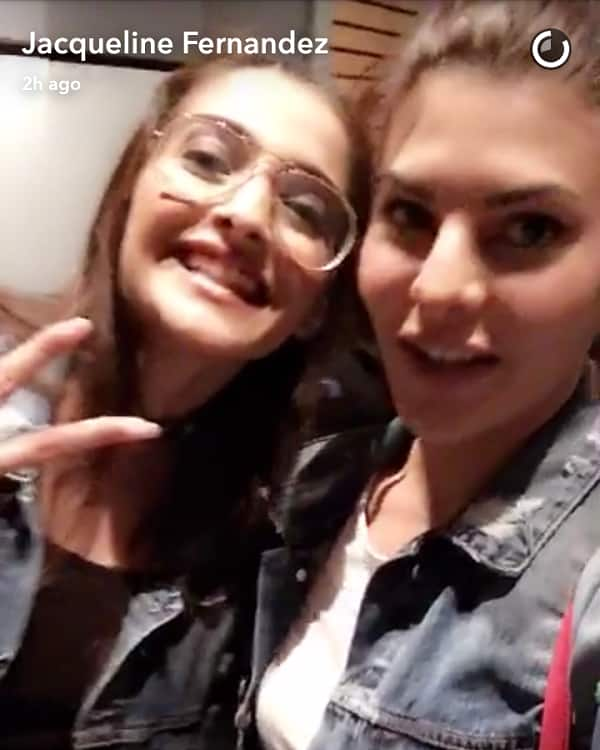 Phew! That was the end of Jacqueline's Snapchat. Although, we are keeping a track of it just in case she posts some more refreshing stories! So stay tuned to this space for more gossips and updates on it!