This is too much for a coincidence! Check out what we mean by that…
Katrina Kaif and Jacqueline Fernandez are two such Bollywood beauties who have come from outside India and have managed to create a big name for themselves in the industry. Not just folks in the industry but even fans outside are all for them! The duo's career literally went under revamp as their debut films tanked at the box office. Thanks to godfather Salman Khan, their personalities found voice in the industry and ever since then, there's no stopping these ladies! A lot of times, they have also been compared to each other over such similarities. However, turns out Jacky isn't that thrilled to be compared to her contemporary.
ALSO READ: Jacqueline Fernandez DOESN'T want to be compared with Katrina Kaif
Even in a recent interview, she had stated her displeasure as she said, "The comparisons aren't fair, because both of us are different individuals, and people should see things that way." She also lauded Miss Kaif by saying, "Over the years, she has achieved a lot. When I had first come here (B-Town), she was like an example. It was like, 'If Katrina can do it, I can do it too.' She was and still is an inspiration for a lot of people who have come from outside India." But even so, it is quite hard to ignore how they both did the same thing in a matter of few months!
ALSO READ: Katrina Kaif has whale of a time, quite literally! – watch video
We're talking about Kat's whaling time underwater for Vogue's June issue where she was spotted swimming alongside the whale shark.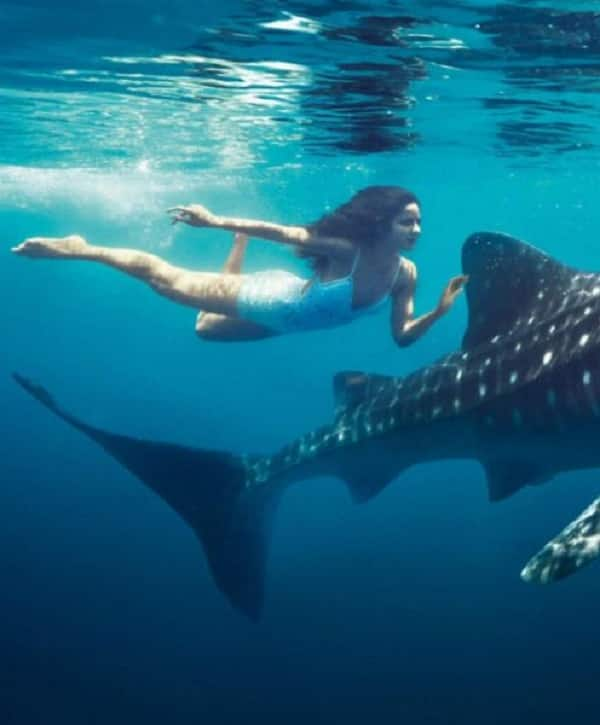 Funny how even Jacqueline had the same sport as a part of her bucket list. As we know now, Jacky is off to Maldives with her mother, probably on a break before she has to get back to work again. She too got clicked swimming next to a whale shark and she shared this pic on her Insta and captioned it, "One off the bucket list!! Meeting and swimming alongside the #whaleshark What a privilege and honour! Thank you big guy!! Just wanna take this opportunity to say pls lets be respectful to Mother Nature, let's not pollute her beautiful oceans and harm her children, a lot of sea creatures are becoming endangered and suffering for no fault of their own, you may be one person but you will make a difference #natureloverforlife"
Well, the cause may be different as Jacky had a more nature friendly approach while Kat did it for a mag shoot, but it does look like Miss Fernandez has followed the Baar Baar Dekho beauty.
What are your thoughts on this, BollywoodLifers? Tell us in the comments section below! And stay tuned to this space for more gossips and latest updates!