You gotta admit that both the gowns do look quite similar!
The competition between Deepika Padukone and Katrina Kaif may have taken a setback the previous year with DP literally acing in all fields be it movies, acting or stylish outings. But looks like Kat is back on track and is totally wowing everyone with her sexy abs and breathtaking panache. The diva attended Vogue Beauty Awards, looking oh-so-gorgeous in a red Romona Kaveze peek-a-boo gown. With a minimal makeup and hair let down, the Baar Baar Dekho literally made us look at her pics again and again for she looked that fabulous! Clearly, she did justice to the award she received i.e. Beauty of the Year by waltzing in looking like that.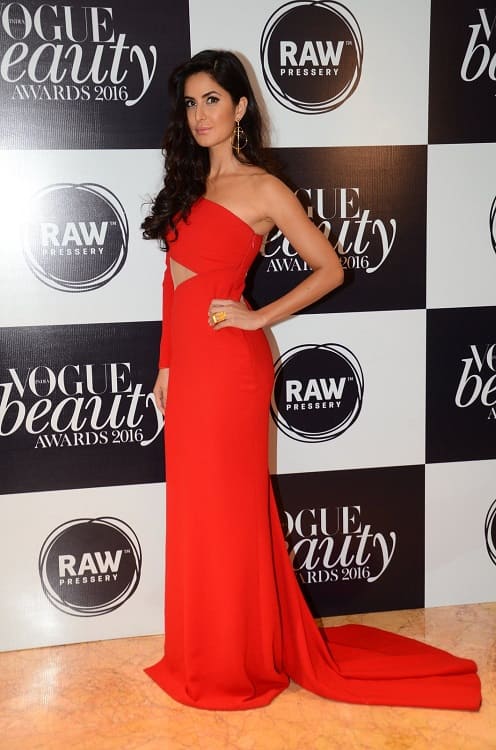 While at first we just couldn't get out eyes off of the diva, we soon realised how uncanny this gown resembled Deepika Padukone's red gown at IIFA launch in Madrid, Spain. In terms of fashion, Dippy may be a latecomer but she too tried a lot of risque fashion outings at IIFA, especially and looked damn hawt. For the IIFA 2016 event launch in Madrid, the Padmavati actress had chosen a sultry number by Prabal Gurung that only amped her hot bod furthermore! In a thigh high slit peek-a-boo gown, Deepika looked the hottest babe in the room.
Now before you go all their gowns are different, we're laying down all the similarities and differences so you don't pounce on us.
Similarities:
#They both donned a red gown to AMP their hotness quotient or just go with the meaning behind the colour (red = hot).
#Both their gowns are peek-a-boo ones that have cuts under the bust.
#Both the gowns are one shouldered.
Differences:
#While Deepika's gown has a sleeveless one shoulder, Katrina's gown has a full sleeve.
#Dippy's gown has a thigh high slit while Kat's gown has an A-line finish to it.
#Deepika's gown is slightly ruffled and more flowy while Katrina's gown is figure hugging and falls straight on the floor.
Now that we've brought you both sides of the story, who do you think pulled off the similar patterned and coloured gown better? VOTE NOW!